Your landscape reflects the pride that you take in your home and your neighborhood. An automatic irrigation system is the easiest way to keep that landscape beautiful and provide you with three great dividends:
Simplicity. Save time and effort. Once an irrigation system is installed you'll never have to drag a hose all over the yard, never have to try and figure out if you've applied enough (or too much) water, and you'll never have to worry about watering the lawn while you're away.
Efficiency. Because the system is automatic, you don't need to be there to physically apply the water. You'll have more free time to enjoy your favorite activities.
Value. Attractive landscaping requires substantial investment and careful maintenance. An automatic irrigation system will protect that investment by assuring healthier, longer living plants and turf. Plus, installing a system is a convenience "upgrade??that will measurably increase your property's appraised value and curb appeal. Water is a precious resource and conserving it is everyone's responsibility. But that doesn't mean you need to sacrifice a green lawn and beautiful landscape.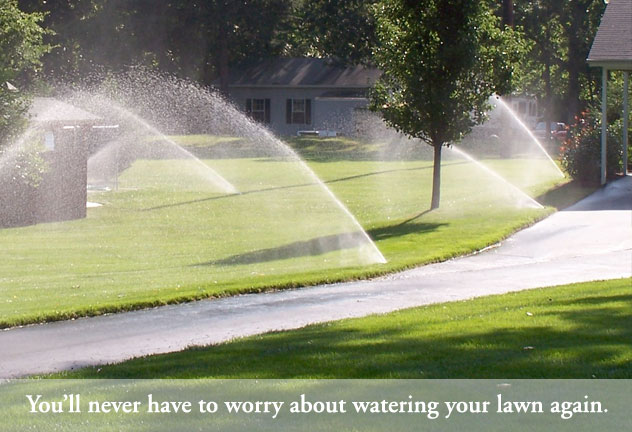 With a custom-designed irrigation system, each area of your landscape will be fitted with the proper water-saving sprinklers and spray heads, plus a controller that will turn the system on and off…automatically and on a precise schedule. The end result will be a likely reduction in water bills and a definite savings of time and effort.
The workmanship that goes into our installations is second to none, which provides the assurance of reliability. Our friendly installation crew takes serious pride in providing you with the most damage-free installation possible, using a ditchwitch pipe puller which pulls the pipe under the ground so limited trenching is necessary.
We install top quality irrigation products that last. Since no one company manufactures the best of everything, we take each component that makes up our system from the company we feel makes it best.
We leave your yard only when you are 100% satisfied with our work and your new system. Premier Landscaping and Irrigation provides a 5 year warranty on each residential system installed.
Premier uses only top quality products provided by the following manufacturers. For more information, click on the logos below.