==========================
==========================
We first hired Dennis to install an irrigation system at our new house. We were very impressed with both the quality of the work and the quick and efficient manner it was completed in. He charges a fair price and does outstanding work, what more can you ask for?

Brian Thompson, Raymond NH
==========================
Premier Landscaping is worth its weight in gold especially with the 5 year Warranty on irrigation systems. Dennis was flexible and willing to come out and look at my systems whenever a question or problem arose.

Like when I accidently put a tent stake through the line.
Phil King, Raymond NH
==========================
Premier Landscaping installed my irrigation system in 2002. It has operated every summer without any trouble. They are very professional and a pleasure to deal with.
I have a huge yard and my lawn looks great all summer long even during extremely hot weather.

David Placey, Merrimack NH

==========================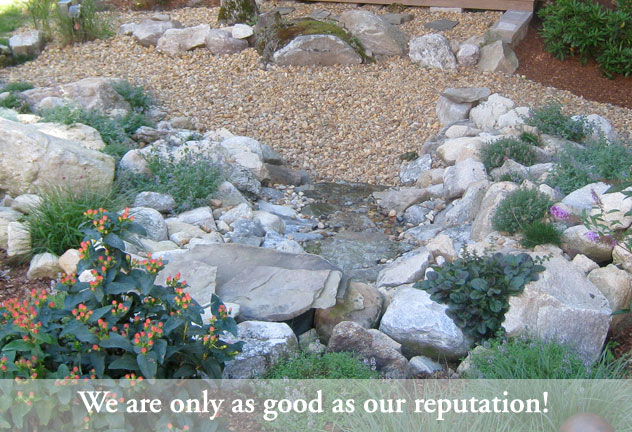 After using several different landscape companies - which were okay, but not quite right - I found Dennis. He put in my irrigation system that has been flawless for years. His work was done efficiently and neatly. Since then he has planted several gardens with flowers and bushes, coming back each year to do a bit more. We then decided to put in a water feature. Dennis turned an unsightly slope of my back yard into a wonderful waterfall! Not only is the area beautiful, but it is serene and sounds wonderful! Dennis is the best - he REALLY listens and follows through on what is requested, his commitment to excellent work is outstanding, he stands behind his work, and his prices are more than fair. I recommend him everywhere!

Deb Martel, Candia, NH
========================================================================
Want to be one of our happy customer?......Call or email us today at 603-625-9098 or premierlandscape@comcast.net.
========================================================================